Willkommen auf der Website GRAUE RIESEN
- For English scroll down please -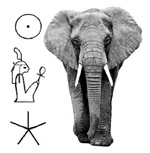 Der Name der Website ist durch meine Vorliebe für Elefanten entstanden, die hier auch immer wieder zu finden sind.
Der arabische Name "Hanan", der immer wieder auftaucht, ist ein Spitzname, der mir einst in einem Arabischkurs in Damaskus gegeben wurde und unter dem ich nun teilweise in Ägypten bekannt bin.  Auch auf Facebook verwende ich diesen Namen.
Außerdem lebt inzwischen im Amboseli-Nationalpark, Kenia, ein Elefant namens "Hanan". Ich habe diesen Elefanten innerhalb des Benennungsprogramms des Amboseli Trust for Elephants so getauft - und so schließt sich wieder der Kreis zu den Elefanten.
Meine langjährige spezielle Neigung zu Ägypten ist allen vertraut,  die mich kennen, und so darf auch dieses Thema auf meiner Website nicht fehlen.
Fotoberichte von einigen meiner Reisen werden diese Internetseite künftig noch abrunden.
Viel Spaß beim Lesen und Anschauen!
ACHTUNG: Die Informationen und Aktionen zum Thema ELEFANT wurden auf die eigens dafür neu geschaffene Website www.ForTheGiants.info  umgezogen.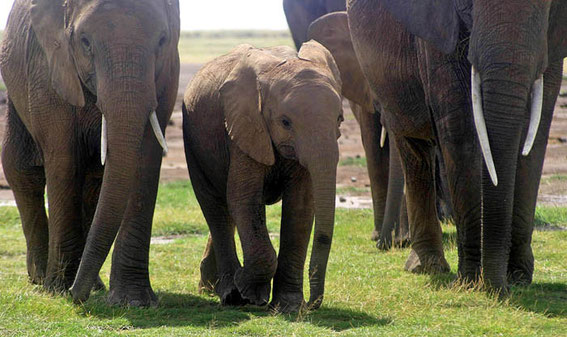 Welcome to GREY GENTLE GIANTS!
'Graue Riesen' are the German words for 'Grey Giants'. As those grey gentle giants are my favourites among Africa's wildlife, you will frequently meet them on this website, too.
Long time ago, in an Arabic course in Damascus, I was given the arabic nickname 'Hanan' which appears on this website now and then, and in some places in Egypt I am known as Hanan as well. Even on Facebook I am using this name.
Furthermore there is an elephant in Amboseli National Park (Kenya) now whose name is Hanan, too - I 'christened' this elephant within the naming programme of Amboseli Trust for Elephants, - and again we are back to elephants!
My longtime love for Egypt is familiar to everybody who knows me, and therefore this subject may not be missing on this website!
Photo reports of some of my trips will complete this internet page in future.
Wish you an enjoyable look and read!
NOTE:
This website's content concerning informations and actions for ELEPHANTS have been moved to the new website created specially for this subject:  www.ForTheGiants.info.